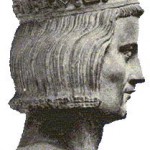 St. Louis led an exemplary life, bearing constantly in mind his mother's words: "I would rather see you dead at my feet than guilty of a mortal sin." His biographers have told us of the long hours he spent in prayer, fasting, and penance, without the knowledge of his subjects. The French king was a great lover of justice.
He was renowned for his charity. The peace and blessings of the realm come to us through the poor he would say. Beggars were fed from his table, he ate their leavings, washed their feet, ministered to the wants of the lepers, and daily fed over one hundred poor. He founded many hospitals and houses: the House of the Felles-Dieu for reformed prostitutes; the Quinze-Vingt for 300 blind men (1254), hospitals at Pontoise, Vernon, Compiégne.
St. Louis married Marguerite of Provence at age 19, and was the father of eleven children.
Read St. Louis IX's full biography at the New Advent Catholic Encyclopedia.